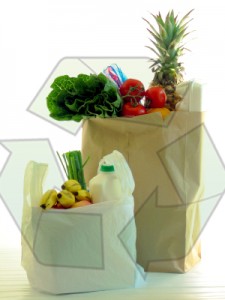 In the last several years you no longer hear the question at grocery stores, "Paper Or Plastic?"  Households are over-flowing with extra bags and our highways and streets are littered with them.  Although the plastic bags are easier, and probably cheaper, it is not the best for our environment.  Our society gets so caught up in "Saving a Tree" that we lose sight of the environmental impacts of the alternatives.  Here are some facts that may change your viewpoint on this subject:
The average American office worker uses about 500 disposable cups every year.
Every year Americans throw away enough paper and plastic cups, forks and spoons to circle the equator 300 times.
During 2009's International Coastal Cleanup, the Ocean Conservancy found that plastic bags were the second-most common kind of waste found, at one out of ten items picked up.
The state of California spends about $25 million sending plastic bags to landfill each year, and another $8.5 million
to remove littered bags from streets.
Less than 1% of plastic bags are recycled each year. Recycling one ton of plastic bags costs $4,000. The recycled product can be sold for $32.
In 2009 63.4% 63.4 percent of paper was recycled; an all-time high according to the American Forest & Paper Association and it was the first year the rate was over 60%.
Although plastic seems like an acceptable alternative to paper, the problem is that it doesn't biodegrade and it's harmful to the environment. Over time, light breaks plastic down into smaller and smaller particles that contaminate the soil and water.  To resolve this issue, going to a paper based alternative is the best choice.  But, if you have to use plastic what should you do?  The best option is to recycle.  Recycling plastic is costly; however, it is still better than sending it to a landfill.  From an economic standpoint, it has been estimated that recycling, re-use and composting creates six to ten times as many jobs as waste incineration and landfills.  The recycling rate of 32.5% in 2006 saved the carbon emission equivalent of taking 39.4 million cars off the road.
What about electronics?  Besides the plastic that goes into making these items, there is another story about the impact they make on our environment.
Of the 2.25 million tons of electronics (TVs, cell phones, computers, etc) retired in 2007, 82% were discarded mostly in landfills.
About 40 million computers became obsolete in 2007, which is about twice as many as in 1998.
If we recycled all of the cell phones retired each year we would save enough energy to power 18,500 homes for an entire year.
In 2005, 61% of CRT monitors and televisions collected for recycling were sent abroad for remanufacture, refurbishment or for glass-to-glass processing.
Recycling one million cell phones allows 35,274 pounds of copper, 772 pounds of silver, 75 pounds of gold, and 33 pounds of palladium to be recovered.
Electronics are a "must have'' in our society today, but educating ourselves about the environmental impact will put the use of them into perspective.
The take-away message from this is simple – recycle and reuse.  Whatever products you decide to use, it is always best to divert them from the landfill.  Take the extra time to recycle these materials, every bit helps and it will impact the generations to come.