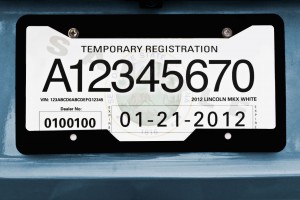 In the United States, the issuance of license plates is a function that is handled by state level Motor Vehicle departments. Temporary DMV license plates are normally issued when the owner registers a new vehicle. New vehicle owners must display the temporary license plate on the rear of the vehicle until the permanent license is assigned to the new owner. The detail on a temporary license plate will vary, depending on the requirements of local law. In most cases, there is some type of information that identifies the issuing entity, the date of issue, and a plate number that is associated with the vehicle until the permanent plate or tag is received and installed on the vehicle.
To print the temporary license plates many jurisdictions choose to use a thick cardstock in a bright background color, featuring larger black characters. This makes the temporary plate easy to see when the vehicle is on the road. However, these types of paper products are not suitable for outdoor use because they fade in light and absorb moisture from rain and snow. The ability to print a temporary license plate is rapidly becoming a viable option.Indiana, for instance, has a program called "Plates On-Demand." Through the Plates On-Demand program, automotive dealers can access and print temporary plates at their dealerships as needed.
For these dealerships Lewis Paper has developed a digital paper called "License Plate Die-Cuts" specifically for this application. The polyester paper is tear-proof, water-proof, chemical and grease resistant. In addition, we have pre-perforated the paper so it fits perfectly in the license plate holder of the vehicle, including two holes for the bolts that hold the plate. License Plate Die-Cuts come in an 8.5 x 11 sheet size so the dealerships can print their own on a high quality material that works better than traditional paper products. The polyester paper used in this application is called "Synaps Digital XM" and can also be used in many other applications where traditional paper products are not performing.